Hmmm I've been having more problems posting, but it looks like we're back online! Finally, here are the sweet potato cupcakes I made for Thanksgiving. It's a little late, but if you're making sweet potatoes for Christmas, this is a fun way to use up the leftovers instead of making pie. The batter was dense, but I was surprised about how light these cupcakes turned out. My mom and I made cream cheese frosting instead of the marshmallow in the recipe because it "goes with everything." It's true, cream cheese frosting really does go with everything. It's even delicious by itself! I've included both recipes here just in case you're curious.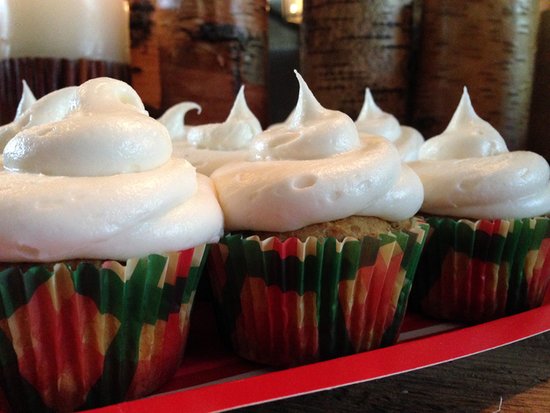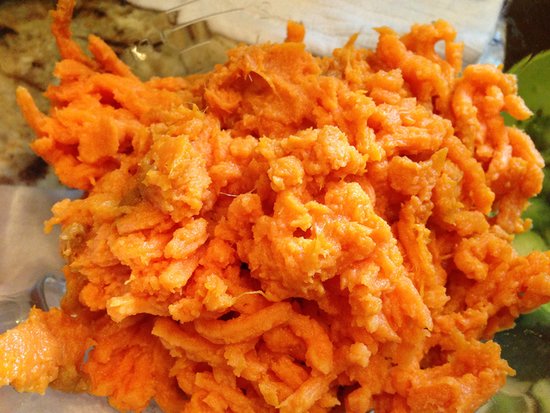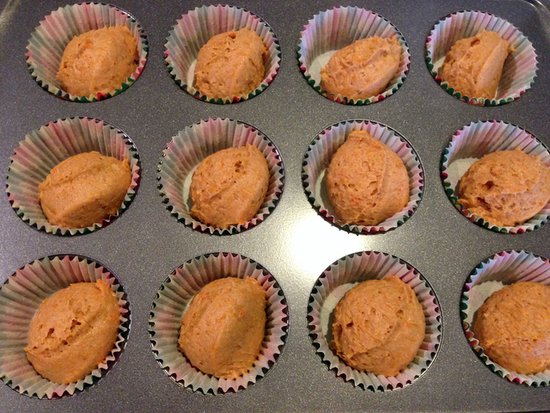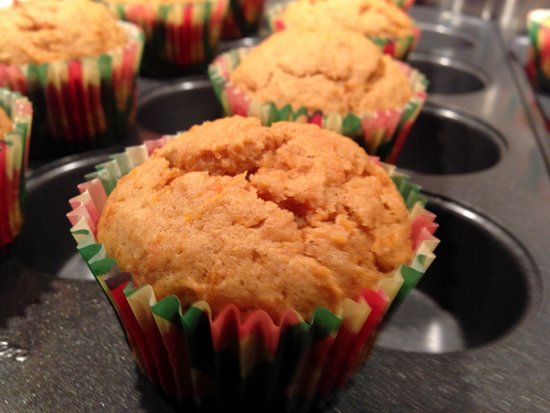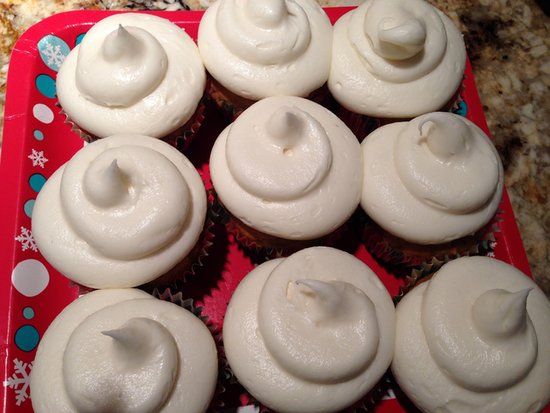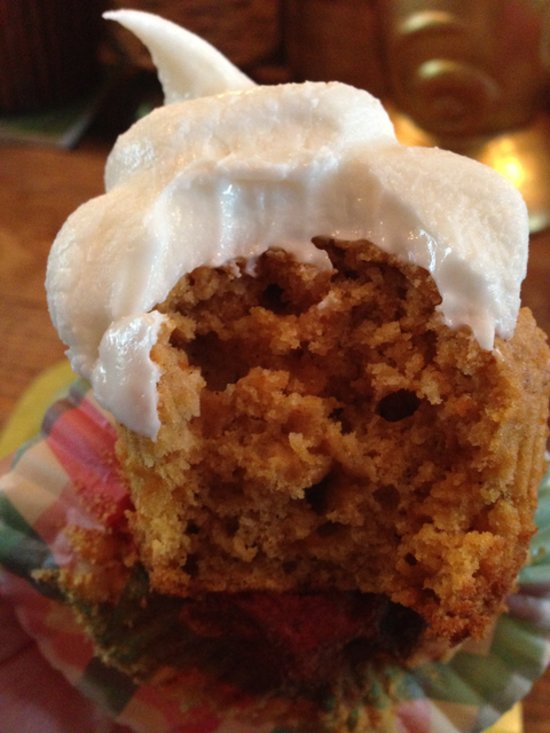 Cake
1 1/2 pounds sweet potatoes (about 2 to 3 medium or 2 large)

2 cups (250 grams) all-purpose flour

1 3/4 teaspoons baking powder

1/2 teaspoon baking soda

1/2 teaspoon table salt

1 teaspoon ground cinnamon

1/4 teaspoon (more to taste) ground ginger

Two pinches (more to taste) ground cloves

1/2 cup (1 stick or 115 grams) unsalted butter, at room temperature

1 cup (190 grams) packed light brown sugar

1/2 teaspoon vanilla extract

2 large eggs
Roast sweet potatoes:  Heat oven to 375 degrees. Prick potatoes all over with a fork. Rest on a baking sheet. Roast for 45 minutes to 1 hour, turning once or twice, until soft. Let cool completely. Can be kept in fridge for up to 3 days, if baked in advance.

Make cake:  Heat oven to 350 degrees F. Line a standard cupcake pan with 12 paper baking cups.

Peel cooled sweet potatoes and run flesh through a potato ricer, or mash until very smooth. (Do not blend in a blender or food processor.) Measure 1 1/2 packed cups (about 12 to 13 ounces) from sweet potato mash; you may have a little extra, which you should warm up with a pat of butter and sprinkle of sea salt and not share with anyone.

Whisk flour, baking powder, baking soda, salt and spices together in a medium bowl. In a large bowl, beat butter and brown sugar together with an electric mixer until light and fluffy, about 2 to 3 minutes. Add vanilla and eggs, and beat until just combined. Mix in sweet potato puree, then stir in dry ingredients just until they disappear.

Using a standard-size ice cream scoop, scoop the batter into a cupcake pan so each well is 2/3 full. Bake for 16-18 minutes or until a toothpick comes out clean. Transfer the pan to a wire rack to cool completely.
Marshmallow Frosting
3 large egg whites

3/4 cup granulated sugar

Pinch of salt

1/4 teaspoon cream of tartar (will help stabilize egg whites, don't worry if you don't have it)

1/2 teaspoon vanilla extract
1.Place egg whites, granulated sugar, a pinch of salt and cream of tartar in a heatproof bowl set over a saucepan of gently simmering water. Whisk mixture for 3 minutes, until whites are warmed and sugar granules feels mostly dissolved. Remove bowl from top of saucepan, then, with an electric mixer, beat egg white mixture on high speed until stiff, glossy peaks form, about 4 to 7 minutes longer. Add vanilla and mix until combined.
2. Using a very large round piping tip or the corner snipped off a freezer bag, pipe large dollops of frosting on each cupcake.
3. Using a kitchen torch, lightly brown the dollops so that they look (and smell!) like toasted marshmallows.
Cream Cheese Frosting
4 tablespoons unsalted butter

4 cups confectioner's sugar, sifted

¼ teaspoon pure vanilla extract

6 ounces cream cheese
1. Place all ingredients in the bowl of an electric mixer filled with the paddle attachment; beat until well combined. Be sure to beat on high speed at the very end for at least 2 minutes to ensure that the frosting is light and fluffy.
2. Transfer frosting into a plastic piping bag fitted with a round metal tip. Frost each cupcake with a swirl of frosting.
(Inspired by Smitten Kitchen and Lil Sugar)